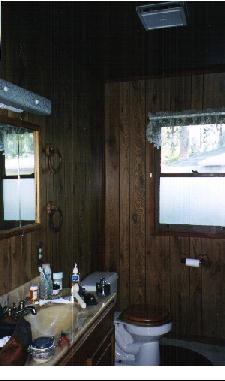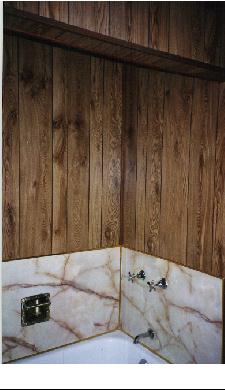 this was the original tub!
Brown paneling (sides and ceiling) :-(
I'll move these to another page eventually, but here are a couple of our home renovation projects. Because we both tend to be busy with work, we either pick projects that can be accomplished over one or two weekends, or projects where I can spend 15 minutes a morning on, spread out over say, eight months.

This is the original bathroom: a horribly, criminally ugly brown for the walls and ceilings, and a grungy brown for the floor.

We had expected it was going to be a simple cosmetic upgrade, but once we got the paneling off the walls, we could see some nasty infrastructure problems. The original plumbing was rusted out and starting to leak, and most of the wiring was way, way below code: just wires taped together and thrown into the wall cavity! Further, the circuit was heavily overloaded! It ran to two bedrooms, the bathroom, outside lights, hallway lights, and living room lights! And of course the drywall was completely trashed under the paneling. We ended up having to rip out everything down to the studs, and then live with a 10% refinished bathroom for months until I had time to work on the drywall. We had a plumber come in and pull copper pipes throughout the house, and had an electrician add a dedicated, 20 amp circuit for the bathroom. We didn't want to tackle the tiling either. I've done some tiling, but it's hard to get everything perfectly square, and level, in all directions, all at the same time. So we had somebody come in and do the tub wall and floor; They were going to be major accents of the space and we wanted them to look perfect, especially the wall pieces, which are even harder to get perfect than floors. We had found some really nice Italian tiles at a remnants sale: a fraction of list price, so we bought a few different types, knowing we'd find a use for them at some point. Years later, yup, all gone. Large off-white floor tiles for the bathroom, a slate'ish type for the foyer, and cream for the cottage. Because we were buying remnants, we had to get creative to get full floor coverage in the cottage: Michelle did a killer layout!

Pull the cottage pictures into here, then branch this full page into garden projects and home projects pages.